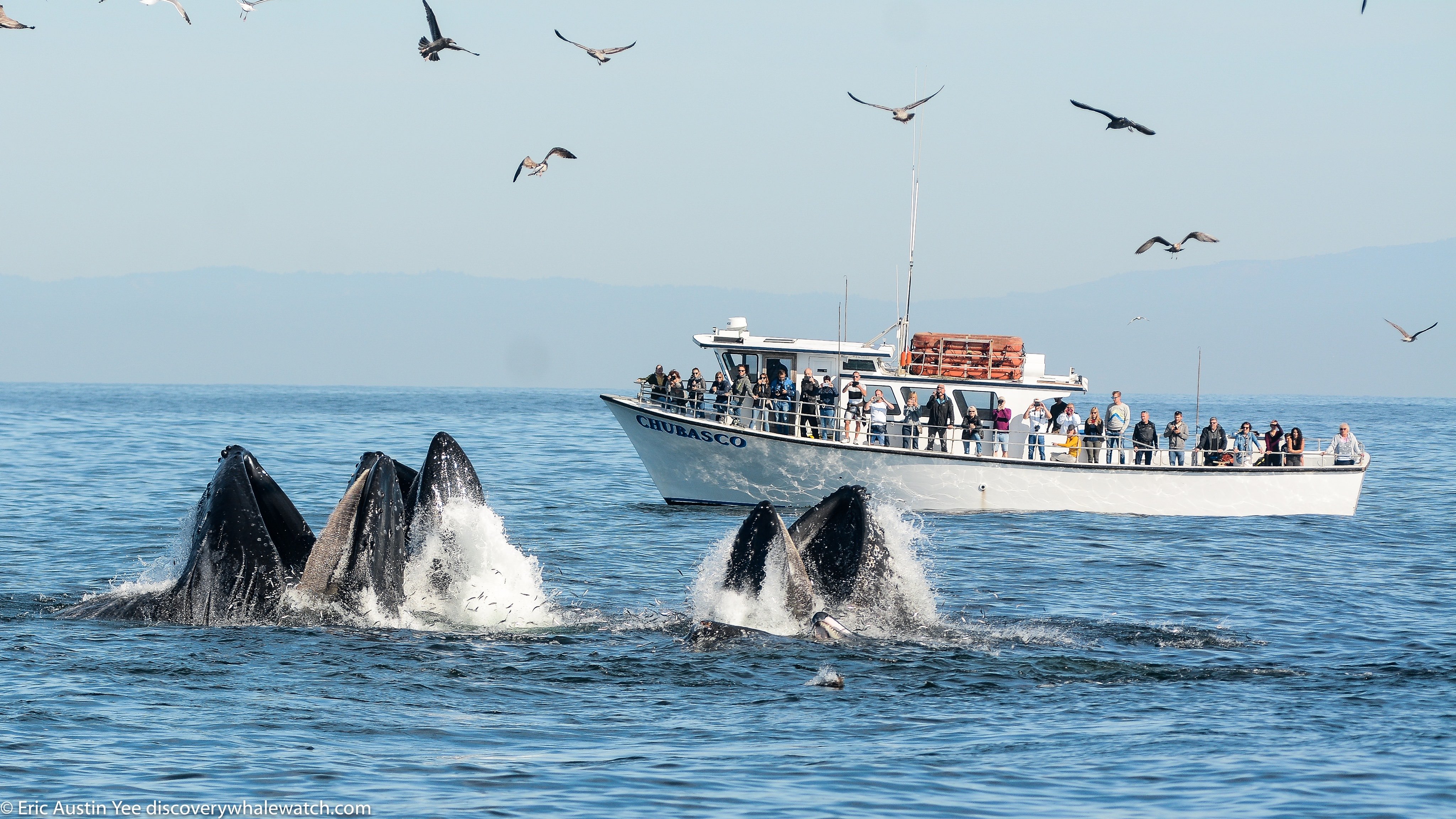 We left Fisherman's Wharf and made our way into the bay to stunning conditions. The sun was shining brightly in a blue sky streaked with wispy clouds, the air was a perfect 70 degrees, and the ocean was flat as a lake! However, by the time we got a mile northwest of Point Pinos we found ourselves in a thick marine layer. Visibility went from 30 plus miles to two hundred yards at best in a matter of minutes. My heart sank slightly. Finding wildlife in the giant ocean is much more difficult with low visibility. We pushed west and soon the skies opened up again, we'd broken through the backside of the fog! Soon after, we came upon a pod of 6 feeding humpback whales.
These humpbacks were doing our favorite style of feeding: surface lunge feeding. If you haven't seen this type of activity before I highly recommend joining us anytime from July to October, as this is the heart of humpback feeding season in The Monterey Bay. Surface lunge feeding involves the whales swimming vertically upwards, mouths wide open and swallowing up thousands of fish. In this process their heads and throats are fully out of the water. There were also sea lions and birds getting in on the action. We enjoyed these amazing creatures for about an hour, and then were on our way.
We pushed southwest and found our second cetacean (dolphin and whales) of the trip. We'd found a small pod of Risso's dolphin, the roaming squid eaters of Monterey Bay. This pod of about 15 Risso's was cruising slowly to the southeast toward Carmel Bay. We traveled alongside them until we started seeing more activity; humpback blows along the horizon. We saw two to the south, one to the west, and one to the east, about 2 miles off Cypress Point. We went for this whale, stopping to watch it surface a few times.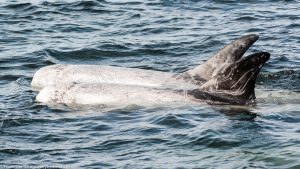 As time was running out we headed in toward the harbor. Forty-five minutes later, after stopping for a southern sea otter and another small pod of Risso's, we were parking the Chubasco in its slip for the day.
Another great adventure in the books!
Blog write up by Naturalist/Deckhand Alfredo Chiappini. Photos by Naturalist Eric Austin Yee.