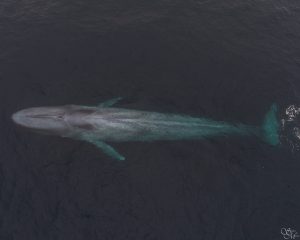 Daily Whale Watching:
Monterey Bay is the premier destination for whale watching all year! We see whales every day here in Monterey. Our daily whale watch trips are narrated by a marine biologist or naturalist who provides educational and interesting information about whales, dolphins, and a wide variety of marine wildlife. In addition to teaching you about the wildlife, our marine biologists and naturalists will provide information about the natural history of the local area and talk about conservation. While out on the ocean, our marine biologists and naturalists are also collecting sighting data for scientific research. We are highly invested in learning about our local wildlife and serving as a data collection resource for other scientists who study our local wildlife as well.
Our daily whale watch trips are 3.5-4 hours in duration in the morning and 3 hours in the afternoon. (Trips are weather permitting.) We travel to different locations within Monterey Bay National Marine Sanctuary to view whales and dolphins throughout the year. Our crew will show you how to spot whales and dolphins as well as give you advice on how to best capture photos and videos of the wildlife.
We regularly send out a professional photographer on our whale watch trips to capture those amazing moments with the wildlife. Therefore, you don't have to worry about getting the perfect shot. Furthermore, the photographers will be available to give you some tips and tricks for how to catch those moment for yourself while on board with us.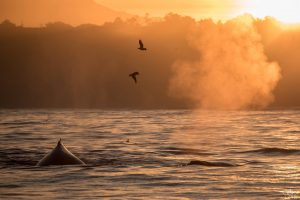 Specialty Trips: Sunrise Photography Trips
Offered every Wednesday! These trips will be geared towards spending more time with whales during ideal lighting hours for photography and enjoyment. We will be searching for a wide variety of wildlife including large whales, dolphins, Killer Whales, seabirds and more! Our resident photographer Slater Moore will be on board to help give you photography advice. He will also be taking photos, videos and flying his drone when conditions allow. Our marine biologist, Katlyn Taylor will be on board to narrate the trip, help you learn how to spot wildlife and to take video above and below the surface when conditions allow. She will also be taking research data in collaboration with Happywhale on board and help you learn how to be a citizen scientist and a contributor to Humpback Whale research. Trip depart weekly at 5:30am and return at 12:30pm. Please pack a lunch and warm layers of clothing.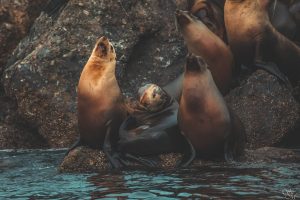 Nature Cruises
This hour-long cruise is perfect for people interested in a scenic tour near Monterey Harbor. We will observe hundreds of California Sea Lions, Harbor Seals, Southern Sea Otters and a variety of birds! We will also explore the vast kelp forest along the shoreline. The trips are narrated by one of our naturalists or marine biologists. We will teach you about the wildlife near shore in Monterey Bay, the natural history of the area, and answer any questions you have.
This is an excellent coastal tour for photographers with nice views of the Monterey Harbor, Fisherman's Wharf and Historic Cannery Row. We will take a tour outside of the harbor and view the historic buildings of Cannery Row, the Monterey Bay Aquarium and Hopkins Marine Station.
This trip is great for families! The trip length is perfect for young children who may be riding on a boat for the first time. It is also an excellent "warm-up" trip to test your sea legs before coming on a longer whale watching trip here in Monterey Bay.
Ash Scatterings:
Scattering a loved one's ashes at sea is a beautiful way to say goodbye. We offer one hour charters along the Pacific Grove coast to scatter ashes at sea. We like to stop along the coast near Lover's Point so that the location of the scattering can be easily viewed later for you and your friends and family. We can also travel to other nearby locations. If you are considering a specific location, please express that to our staff when making your reservation. You are welcome to bring flowers or other plant material to put in the water with the ashes, as part of your send off. We also encourage the use of biodegradable urns, which can be entirely placed in the water.
We are licensed by the State of California Cemetery and Funeral Bureau as a Cremated Remains Disposer to scatter ashes at sea.
You are also required to obtain a permit for the ashes before we can take you to have them scattered at sea. You can obtain this permit at the Monterey County Health Department located at 1270 Natividad Road, Salinas CA 93906, or you can ensure that the permit you receive with the ashes from the crematorium states "for scattering at sea off the coast of Monterey". After the scattering is performed, we will provide you with a certificate for you with the GPS coordinates of the scattering location for your memories and for your records.
Sur Randy or Captain Joey 1-30 people
1 hour Lover's Point: $500
Chubasco 1-50 people
1 hour Lover's Point: $600
Additional set of ashes: $75 per set
*Deposit due at time of reservation: 50% of burial fee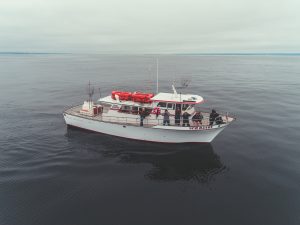 Private Charters:
Looking for a special trip for your group? We offer private charters for scenic tours, whale watches and more! Come and join us for a private trip, a corporate event, a special occasion, family gathering. We are happy to accommodate a wide variety of requests. So please don't hesitate to ask our staff about options for your trip.
Sur Randy or Captain Joey
3 hour trip 1-30 people: $1200.00
4 hour trip 1-30 people: $1400.00
*additional passengers up to 45 for Sur Randy: $40 per person
*includes a marine biologist or naturalist
Chubasco
3 hour trip 1-45 people: $1750.00
4 hour trip 1-45 people: $2160.00
*additional passengers up to 55: $40 per person
*includes a marine biologist naturalist
*Deposit due at time of reservation for weekday charter: $500.00
*Deposit due at time of reservation for weekend charter 50% of total balance