Sustainable Initiatives:
Discovery Whale Watch strives to be a leader in the ecotourism industry. We are constantly evaluating our business practices to reduce our impact on the environment we explore during our tours. In addition to our conservation messaging on tours, we are changing some of our operations to reduce our impact.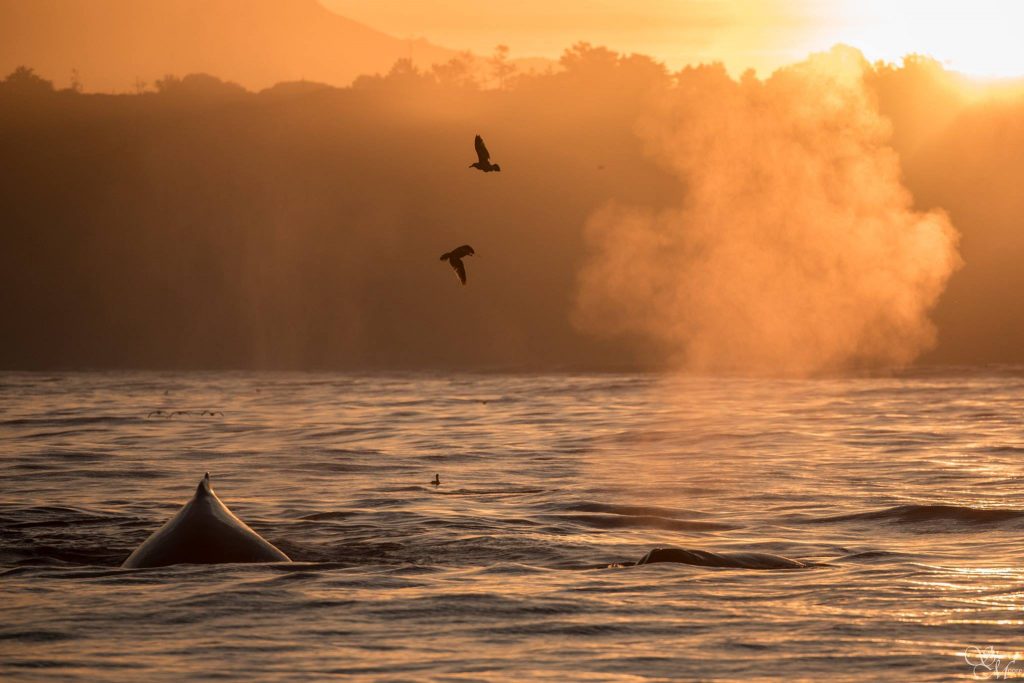 Sustainability Updates and Initiatives:
At Discovery Whale Watch, we, along with all other businesses on the Monterey Old Fisherman's Wharf do not use plastic straws on our premises. We provide free water refills, coffee, tea and hot chocolate to anyone who walks in the door – please bring a reusable container with you! We are also conservation partners for the Monterey Bay Aquarium Seafood Watch Program, pick up a paper guide in our office or get the link to download the app on your smart phone. We also regularly schedule beach cleanups within our community!
Ocean Clean Up:
Being out on the ocean every day, we often find trash floating amongst the waves. We will always take a quick detour to pull any trash out of the ocean before it has the chance to harm our marine life. One of the big culprits here is the mylar balloons. These are by the far the most common trash item that we find, and they are one of the worst due to the fact that they slowly lose their color, and end up looking just like jellyfish. Hungry marine animals may eat the balloons thinking they are jellyfish, and these balloons can then get stuck in their digestive system, eventually killing them. Our crew is always on the lookout for mylar balloons and other trash, on a quest to keep our ocean clean.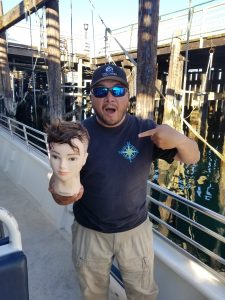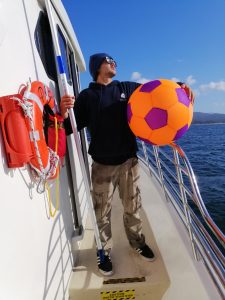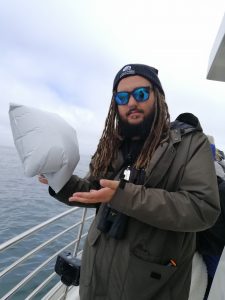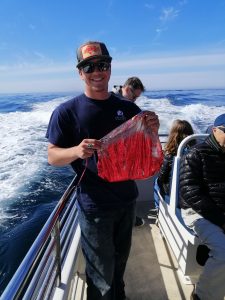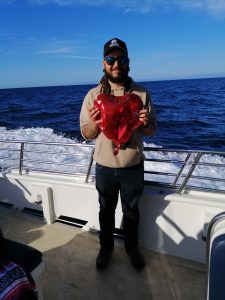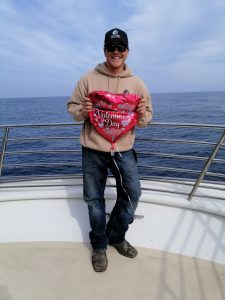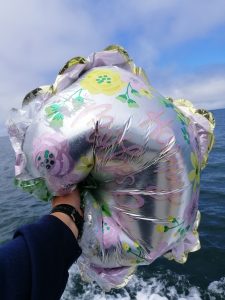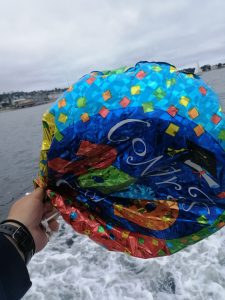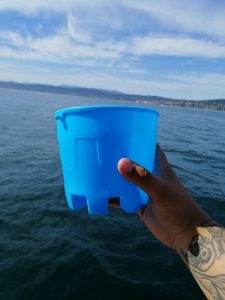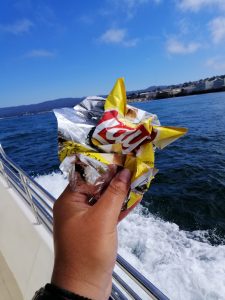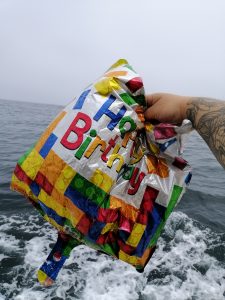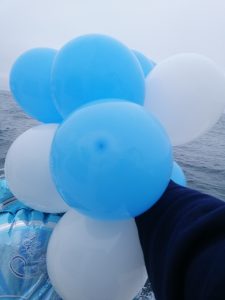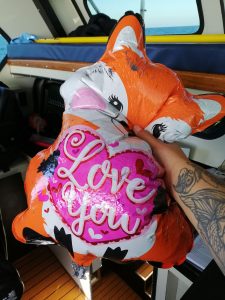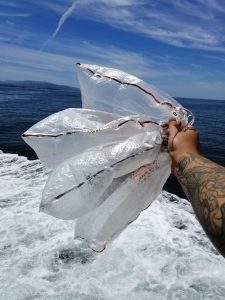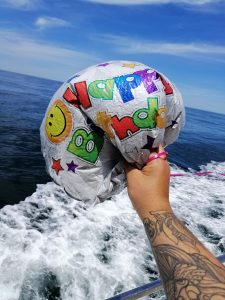 Conservation Tips:
Ten ways to become a daily conservationist:
Conservation is not some grandiose thing that only politicians, and scientists, and activists can do. It's something anyone can do any day. Little actions build up over time. If every person took it upon themselves to make small changes to their daily behavior, we could really make a difference in the environment. Here are ten recommendations of daily actions you can adopt to become a daily conservationist.
Bring a reusable water bottle with you – reduce or eliminate single use plastic bottles if possible
Bring your own coffee mug with you when you buy coffee on the go – or use a mug at the coffee shop if you are going to stay and enjoy your drink (most coffee shops have "house" mugs upon request)
Bring reusable shopping bags with you to the store
Make sustainable seafood (and other food) choices – the Monterey Bay Aquarium has an app called the Seafood Watch Guide which can help you make sustainable choices
Decline plastic straws at restaurants if you don't need one – or bring your own reusable straw with you
Pick up a few pieces of trash everyday – if it's safe to do so pick up a few pieces of trash and make sure it gets in to the proper receptacle
Recycle – educate yourself about what can be recycled in your area and sort all items accordingly
Participate in a beach / river or park clean up – search for non-profits or other such groups hosting clean ups in your area – if there are none, start your own!
Reuse household items for new purposes – get creative! Use glass jars for lunch containers or cups, use candle votives to decorate with in a new way, glass bottles to hold flowers, the possibilities are endless!
Share your actions with others so they can be inspired to do the same
Beach Cleanup/Public Events:
July 17th, 2021 12pm-3pm
This was our first clean up of the 2021 season and Post-Covid. It was a huge success with over 30 people showing up, including members of a local Boy Scout troop! We collected trash up and down Del Monte Beach. This was the first beach clean up where we also sold "Discovery Whale Watch Beach Cleanup" shirts and stickers to help fund additional conservation projects. Thanks to everyone who joined us and stay tuned for the next event in Fall 2021!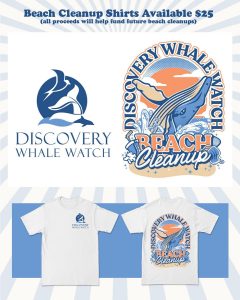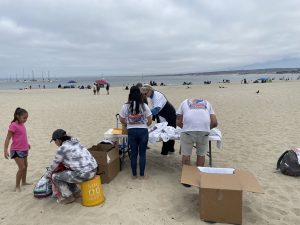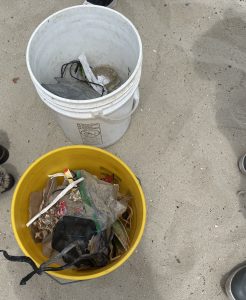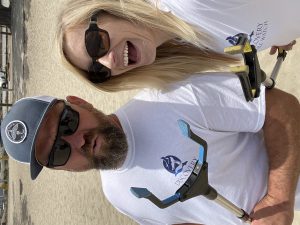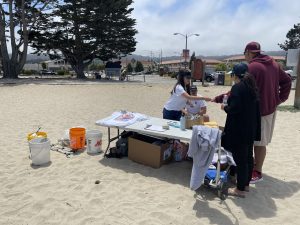 June 8th 2019 Earth Day Beach Clean-Up 11:30am-1:30pm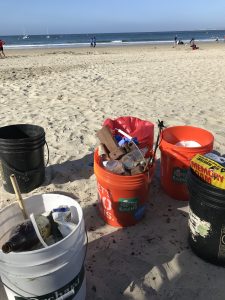 Event Invite & Details
Join the Discovery Whale Watch crew in cleaning the beach near our location! This is a collaborative event with support from Monterey Bay Aquarium's Seafood Watch Program, Monterey County Conventions and Visitors Bureau, Slater Moore Photography, the Whalenerd's Podcast, Brent Allen Outside and more! We have a Facebook event set up for real time updates about the event. RSVP on the event so we have an estimate of how many folks will be joining us. We will be cleaning the stretch of beach from the Monterey commercial wharf to the condos on Del Monte beach. We will provide buckets and latex gloves for participants and offer prizes for most unique item and most cigarette butts collected at the end of the two hours. The clean up is free. We highly encourage guests to bring their own gloves, buckets, trash pickers or other tools if they have them. Dress in warm layers and bring a bottle of water or other beverage with you! (preferably reusable)
April 21st 2019 Earth Day Beach Clean-Up 4pm-6pm
This was a collaborative Earth Day event with the California State University Monterey Bay Marine Science Club. We had about 25 people in attendance who helped us clear about 8 buckets (5 gallon size) full of trash from the beach in two hours. Thank you all for your continued support! KSBW came out to cover the clean up, here is the link.
January 12th 2019
Beach Clean Up was a success! We are so grateful to all the people who came out and helped us clean the beach yesterday. We had over 60 participants of all ages and walks of life. We cleared over 10 buckets (5 gallon size) full of trash from the stretch of beach near our harbor in just 2 hours. Thank you for helping us keep our beautiful ecosystem clean and do our part for the oceans. The Monterey Herald came out to cover the story too!. Check out the article by clicking here.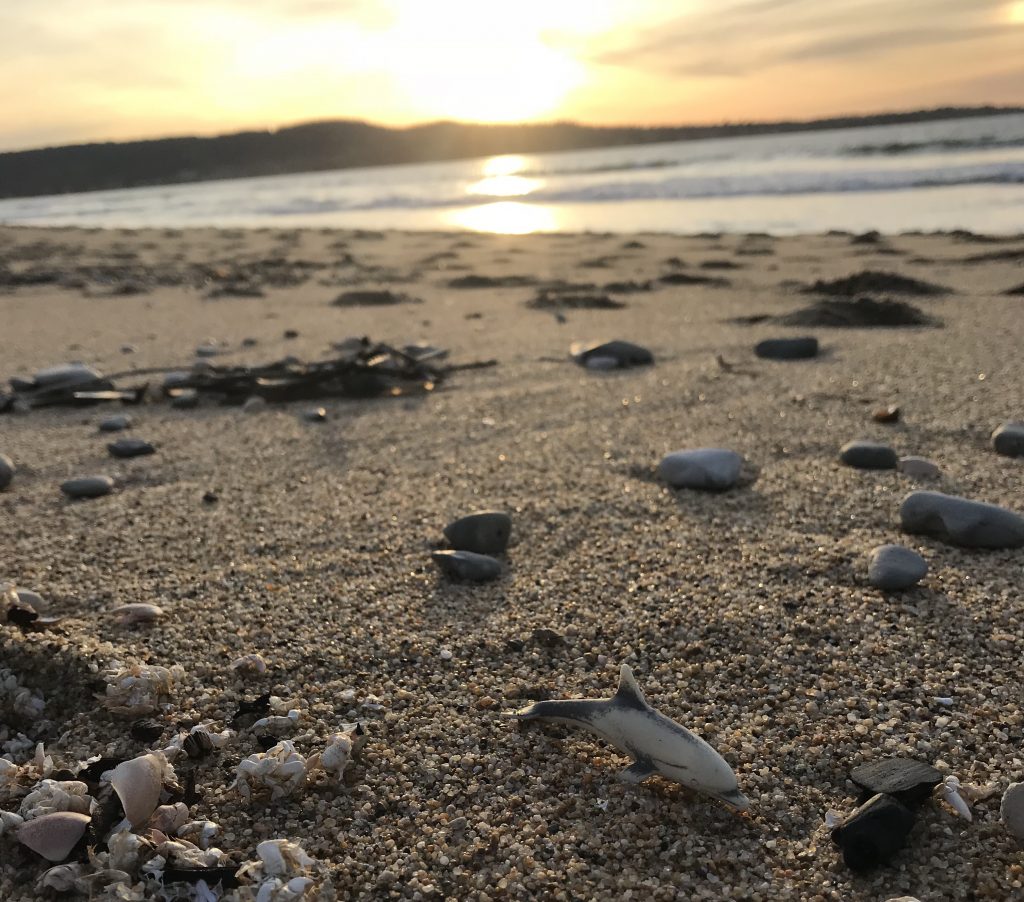 Conservation Partners:
Conservation is something we do together! Check out the partners we work with to promote conservation and collaborate on projects.