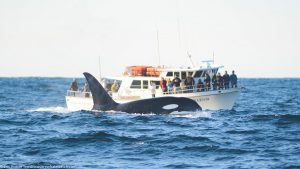 Pacifica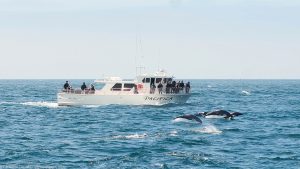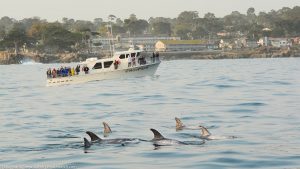 We have two vessels we use for whale watching and are happy to introduce our third vessel as of the 2019 season! All of our boats are slightly smaller than other companies in our area; giving us an opportunity to specialize in smaller group setting type tours. We pride ourselves on having our crew spend time on deck talking one on one to guests throughout the trip in addition to narrating with our microphone system. All of our vessels also have  liquor licenses so beer and wine are available for purchase onboard.
The New Horizon  is a 55ft vessel that is certified for 47 passengers. We limit the passenger load to 40 passengers when we use it for whale watching so it is more comfortable for our guests. This also gives our crew an opportunity to spend lots of time on deck with guests.
The Chubasco is a 63ft vessel that is certified for 59 passengers. We limit the passenger load to 55 passengers for the comfort of our guests. The Chubasco has a great low deck view from the back which is ideal for photography. Even with the larger passenger count, our crew has ample time to chat with everyone on deck.
We may switch the boats at any time based on our schedule. We may also use both boats when we have a high volume of whale watch reservations. Both vessels are also available for private charters upon request based on our schedule.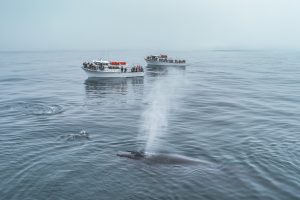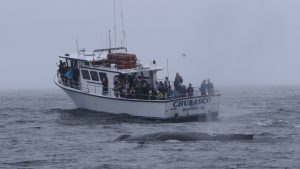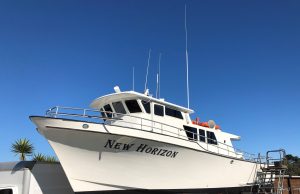 Newest Addition: The Pacifica
We have been updating and doing some serious remodeling on the newest addition to our whale watch fleet. The Pacifica is a 50ft vessel certified for 47 passengers. This new vessel features more seating than other boats in this same size class and was redesigned with whale watchers in mind. It features a state of the art PA system, seat cushions on every seat, a small galley, and has top of the line safety features. We are so excited to be running daily trips on this vessel!