May 30, 2023
What a day. What. A. DAY! Today's epic journey was our final 6-hour trip of the season, and it really felt like Monterey Bay had saved its best for last. It all started with a pod of 50-some odd Risso's dolphins greeting us just ten minutes outside of the harbor along the Pacific Grove shoreline. 
These squid-loving toothed whales don't have much for dentition themselves—instead, they rely on a foot-long serrated tongue to slurp and (eventually) burp their slippery calamari entrées. With such an auspicious sighting, Captain Danny skedaddled us southward toward Big Sur, egged on by sublime conditions and alluring reports of an even more impressive group of odontocetes an hour and a half ahead. We're still not sure who provided the impeccable ocean Karma, but we took it: Calm seas, light winds, sunny skies and positive attitudes sailed us to our needle in a stack of needles. 
And just off of the Sur's famed Bixby bridge, shipboard orca researcher Josh McInnes started hooting and hollering: Members of transient orca pod OCT41 (and as it turned out, OCT81 as well) were hot on the flippers of a few terrified California sea lions. Two males guarded the lion's exit, while the matriarch, two more females and a calf searched the various kelp paddies for the pinnipeds in a deadly game of hide and seek. At one point the big bull sea lion found himself out of cover, and the orcas tried best as they could to ram him into submission. A direct hit was followed by two near misses, resulting in an astounding full-body breach of female orca OCT081, with the ionic Big Sur coastline in the background. We were as far as we ever go from home, with perfect viewing conditions, incredible wildlife putting on a show, and all of this completely to ourselves—it's the best day of orcas that Captain Danny had witnessed in his nearly 30 decades on the water. 
We watched the drama for a while before opting to remove ourselves from the situation and to let nature take its course, sea lions still hiding in the echolocation-disrupting drift kelp while the black and white hunters prowled. Captain pointed us offshore, taking advantage of the pristine seas. We sailed over large current lines of drifting By-The-Wind Sailors, Velella velella, brilliantly blue sea jellyfish-related hovercraft with a built-in gelatinous top sail that carry these glorious surface plankton about on the wind and waves. Stowaway invertebrate nerd Patrick Webster scooped one up for guests to see as we ventured towards an offshore seamount, flanked by blue sharks and black-footed albatrosses as we coursed over ever-bluing water.
And that's when it happened again: Another pod of killer whales, this time a trio that Josh had no recollection of ever encountering. There's a working theory that groups of more open water Transients reside along the coast, and on this day of days we found ourselves 20 miles offshore in the potential presence of just such a troupe. 
Now many hours late (to the chagrin of none onboard), we started home with a quick detour to watch two cow-calf pairs of humpback whales feeding on anchovies. A couple of lunge feedings later, and we reluctantly set sights on Monterey Harbor—with a few more stops to fish out errant mylar balloons and miscellaneous marine debris. When the ocean offers up as much as she did today, it's good to give back even just a little bit. With both our memories and memory cards full of wonder, we said our goodbyes to the guests and our thanks to Monterey Bay for such a gift of a day. Thanks to all who joined in, and may we tell of this day for many years to come!
-Naturalist Sophie with assistance from Patrick, guest Naturalist for the day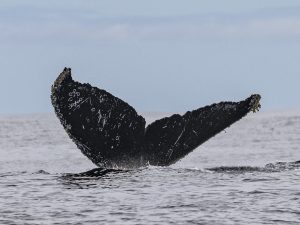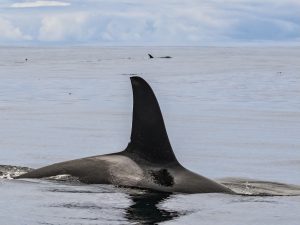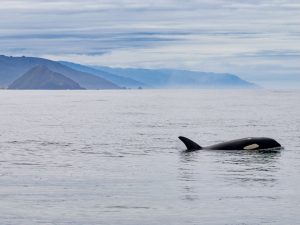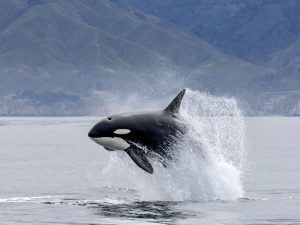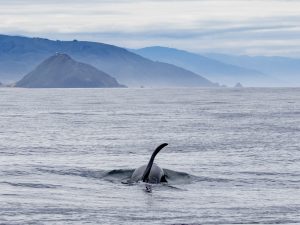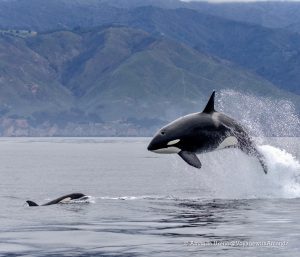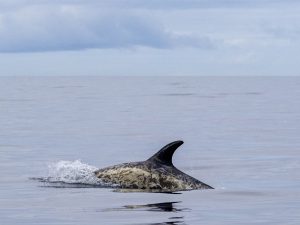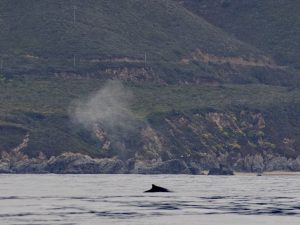 Photos by Photographer Amanda Urena