I've been off work for the last 4 days and was completely itching to get back out on the water. It looked like Monterey Bay was welcoming me back as we set sail with no wind, no swell, perfect visibility, and the sun shining. I was with Captain Danny and deckhand Kevin aboard the New Horizon, and we were running a three-hour private charter for an awesome group of 31 passengers. Captain Danny had a game plan in action as we picked up speed, turned left at Point Pinos, and headed on down south.
We had blue whales on our minds, and it wasn't too long before we had blue whales in our sights. We were approaching an area where we had located a single blow, and that turned into two blows by the time we had arrived! These blue whales were very busy individuals. Each surfacing was about 10 minutes apart, and they were moving at least ⅓ mile while they were on their dives. Regardless, we still managed to get some awesome looks and everybody on board managed to tick blue whale off the bucket list.
We decided to leave the blue whales and try to catch up with another whale that might be a little bit more cooperative before we had to head in. Luckily Captain Rod on the Pacifica was sitting with a humpback whale about 3 miles from us, so we picked up speed and headed over to meet him.
We got really nice looks at this humpback. It was a sleepy individual, not moving around too much, and allowing us to predict its movements quite well. We got awesome views of the body and of the tail flukes, and also a cool phenomenon we call a 'rain-blow'.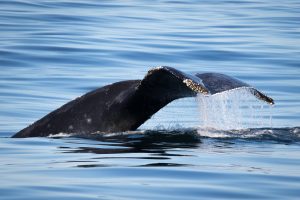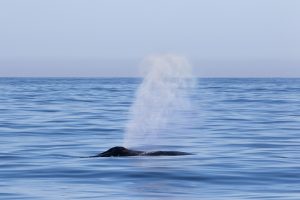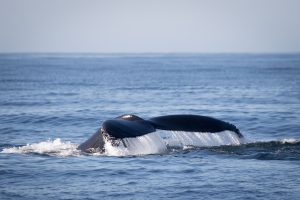 I found it pretty tough to photograph the rain-blow, but you can sort of see it there. A rain-blow is pretty self-explanatory, where a rainbow becomes visible in the whales' blow. It's a really beautiful thing to see.
Eventually, we were headed back into Monterey when we got the call that there were some dolphins up ahead of us. Not too far out of the way, we couldn't really say no. We came across a nice group of Risso's Dolphins, and were very happy to find Casper! The albino Risso's Dolphin. AKA Albert the Albino. Casper gave us amazing looks today, coming super close to the boat on a couple of surfacings. So close we can see all the diatoms, the yellow marks on the body! A few Pacific White-Sided Dolphins joined in, jumping around the Risso's Dolphin and showing off how acrobatic they are.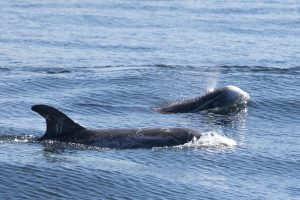 Very happy with our four cetacean species, we headed back into the harbour. I wasn't rostered on to do another trip, but I didn't want to go home while the sea and the wildlife was so nice. I snuck aboard our 1:30 trip on the Pacifica and joined Captain Rod, Naturalist Eric, and Deckhand Andrew.  
The wind had picked up a bit making the ocean a little wrinkly, but we still had basically no swell and relatively smooth sailing.
Straight back out to the same spot from this morning, we caught up with another blue whale! We got some really nice views of this one as it turned out to be quite easy to watch. Its dive was shorter, its surfacing was longer, and it didn't really move too much while it was down.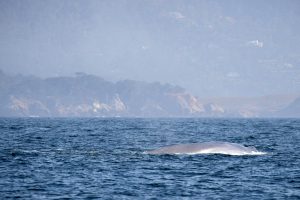 Really happy with these looks, Captain Rod decided to keep on pushing to try and get our passengers a variety of species. We kept pushing a little bit south, and shortly Andrew came up to the wheelhouse to point out some splashing out ahead, at our 11 o'clock.
I looked out and saw a boat, with white water in its wake.
Captain Rod also looked out and saw a boat, with white water in its wake.
We made fun of Andrew for a little bit for not realising that he was looking at a boat, with white water in its wake. Eric declined to comment. And then about 30 seconds later we looked pretty bad as it turns out that Andrew actually had spotted a nice pod of Risso's Dolphin! Good job Andrew.
We got some really nice looks at these guys as they approached, swam right underneath the boat, and then hung out on both sides of us for a while. I was looking around half expecting Casper to reappear, but it looked like this was a different group of individuals.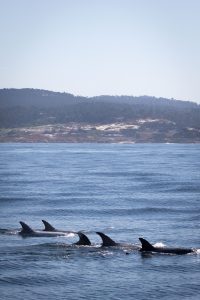 Pushing on, we got nice looks at a couple of humpback whales – fluking, close passes, and even one lunge feed!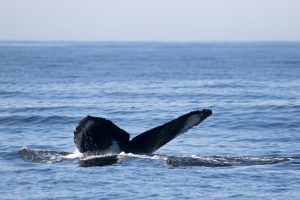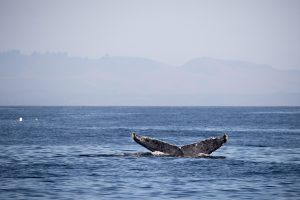 Beautiful day, beautiful conditions, beautiful animals. Nice.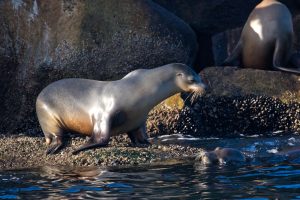 Naturalist Pete Naik