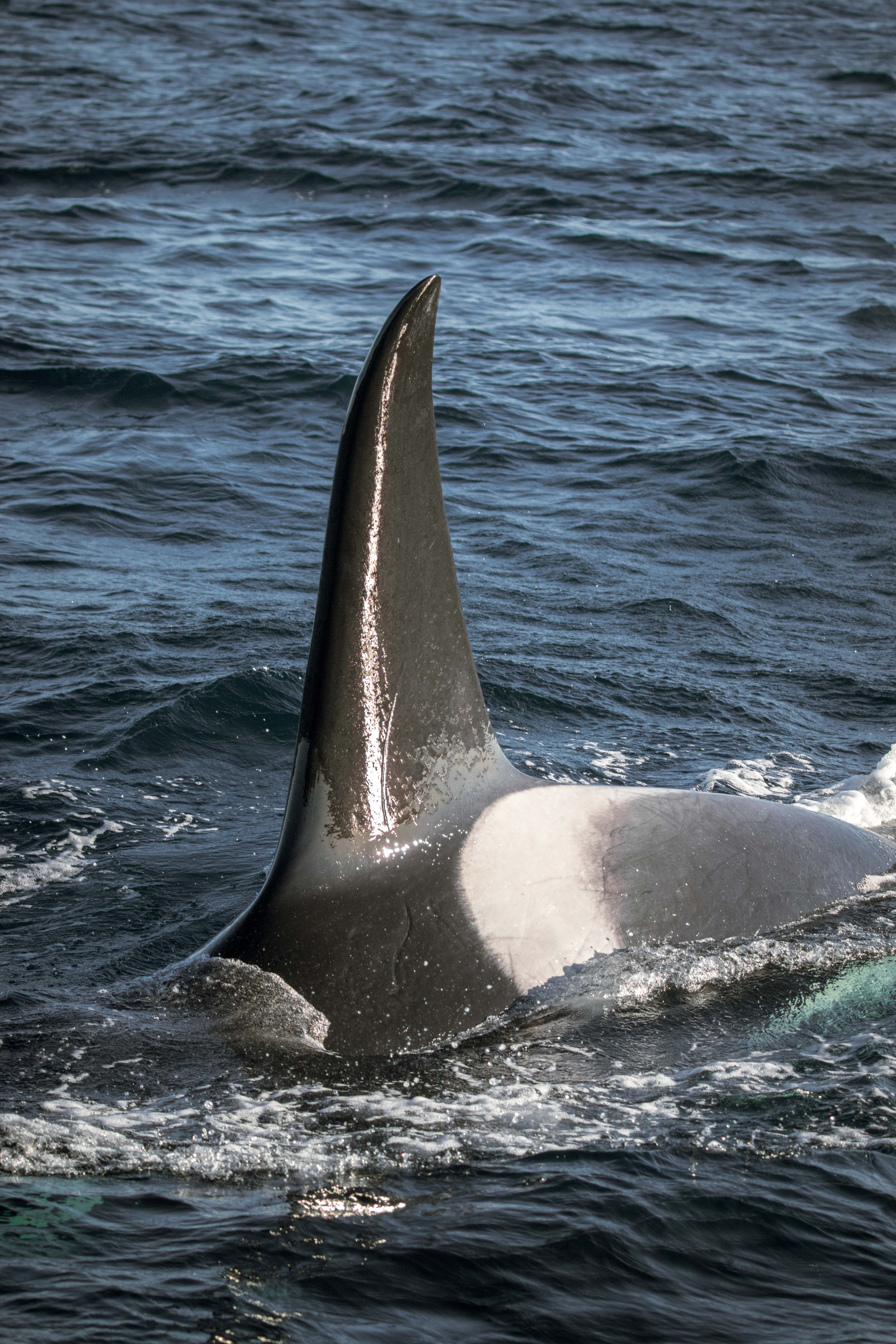 What a day out there! We had two boats going out all day, with pretty nice conditions throughout both the morning and afternoon trips. A light swell and a light wind made for a comfortable ride, getting nicer and nicer throughout the day. Captain Rod, naturalist Eric, and deckhand Daniel Rosa were aboard the Pacifica, while I went on the New Horizon with Captain Danny and deckhand Andrew.
We started the day off with a nice small group of Risso's Dolphins nice and close to the harbour. There were about 30 to 50 individuals, and we were lucky that once we had stopped to look, they turned and came right towards us! Awesome first looks at cetacean species number one. We wanted to make sure that there was enough time to get offshore to find the big guys, so we got our eyes full of these dolphins and kept on exploring.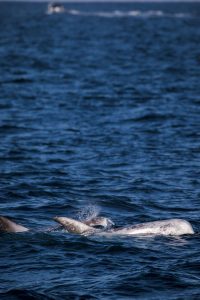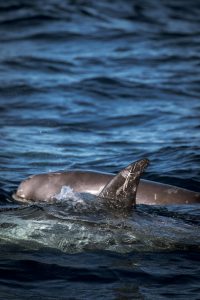 Before long, we came across cetacean species number two – Gray Whale! We watched one individual slowly moving south and managed to get three surfacings out of it. We all got really nice views, and even saw the tail fluke a couple of times!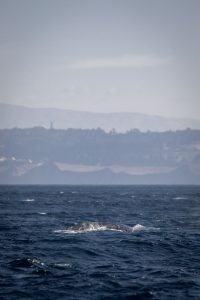 We received word of a Humpback Whale offshore, and we wanted to try and get a variety, so we went out south-west. Once we got to the Humpback, we were treated with excellent views. This single individual was constantly moving north-west, spending pretty much the entire time at the surface! We slowly moved with it as it predictably surfaced, making sure we all got nice looks. Eventually, the time came for us to turn around, and as if on cue, we got one final giant tail fluke out of this massive whale! Excellent! Three cetacean species!
Back to the harbour. We had planned to just take one boat on in the afternoon, but some last-minute bookings meant that we decided to take both out. We set sail out offshore and received a report of some Gray Whales relatively close to the harbour. Captain Danny thought for a minute, then decided to skip past them. He had a feeling that we were missing something offshore. We decided to go out and do a bit of exploration, as we could always catch up with the Gray Whales on the way back in. Our first sighting was again the Risso's Dolphins, this time a little bit further offshore. Again, excellent views.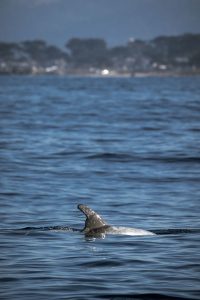 We kept pushing out west. Further and further. It looked like there wasn't too much out here, but Captain Danny wanted to keep pushing just a little bit further. We didn't come across anything at all, so once we had gotten out as far as time would allow, we made the turn to point back towards the Gray Whales. Just as Captain Danny was turning the New Horizon, he spotted some blows about a mile or so away from us. We assumed they were Humpbacks, and headed towards them. As we got closer and closer, we started to suspect that this was something different. Then we saw it – the giant dorsal fin cutting through the water. Killer Whales!
We came across two large bull Killer Whales swimming north, with a group of 4 females (or young males) swimming the same direction a few hundred yards away. We stuck with the bulls and got incredible views. These two moved predictably and came super close! At one point, they both swam right underneath the boat, and we could look over the side and see them only a few feet away from us. Words can't describe how incredible this encounter was! Danny, Andrew, and I were all as excited as the passengers!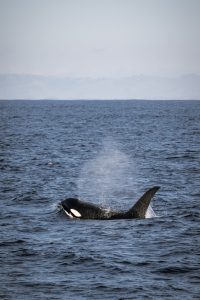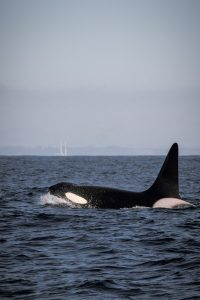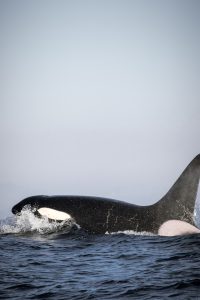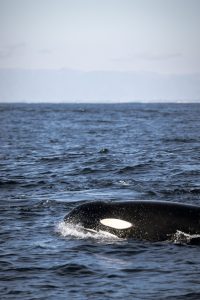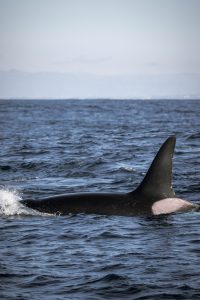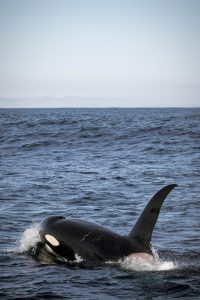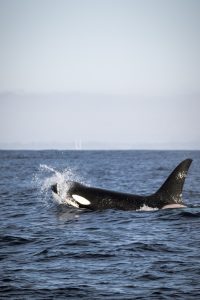 Again, I can't really articulate how incredible these two transient Killer Whales were. Hopefully, the photos do them some justice. I'm not too sure exactly who these individuals were, but I'll be sure to update this blog when I find out! We ended up staying a long time with them, and it eventually came time for us to leave. Cetacean species number 4. As we're pointing the boat back in, Captain Danny sees some splashing ahead of us. We go to check it out, and find Pacific White-Sided Dolphins! Cetacean species number 5! An enormous group of 200 or so swam all around us, with large numbers coming right up to the boat and bow-riding. The best look you can get at dolphins! Amazing!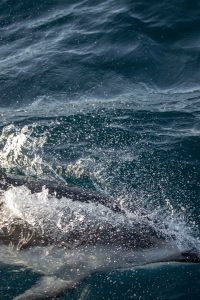 We're enjoying these dolphins when Danny quickly makes a turn and leaves. I walked up to the wheelhouse to see what was going on, and it turns out there was another whale species sighted on our route home! Surprisingly, we had a call about a Fin Whale! We arrived in the area and sat waiting for a bit to see if this individual would show back up. We were pretty much out of time but wanted to give it a few minutes. All of a sudden, a Fin Whale pops up right next to us! Wait, two fin whales! Wait… Three fin whales! Unexpected, and amazing. These three showed off for a little bit, leaving us happy with cetacean species number 6.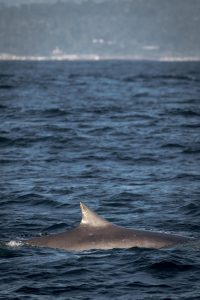 We were out of time. Danny told us that we were going home, for real this time. Our last surprise of the day happened as we were halfway home, and a pair of Gray Whales popped up right in front of us. We finished the day watching these two Gray Whales slowly moved south as the sun went down.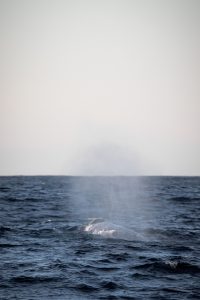 An absolutely incredible end to a beautiful day. Can't wait to see what we find tomorrow.
Naturalist Pete