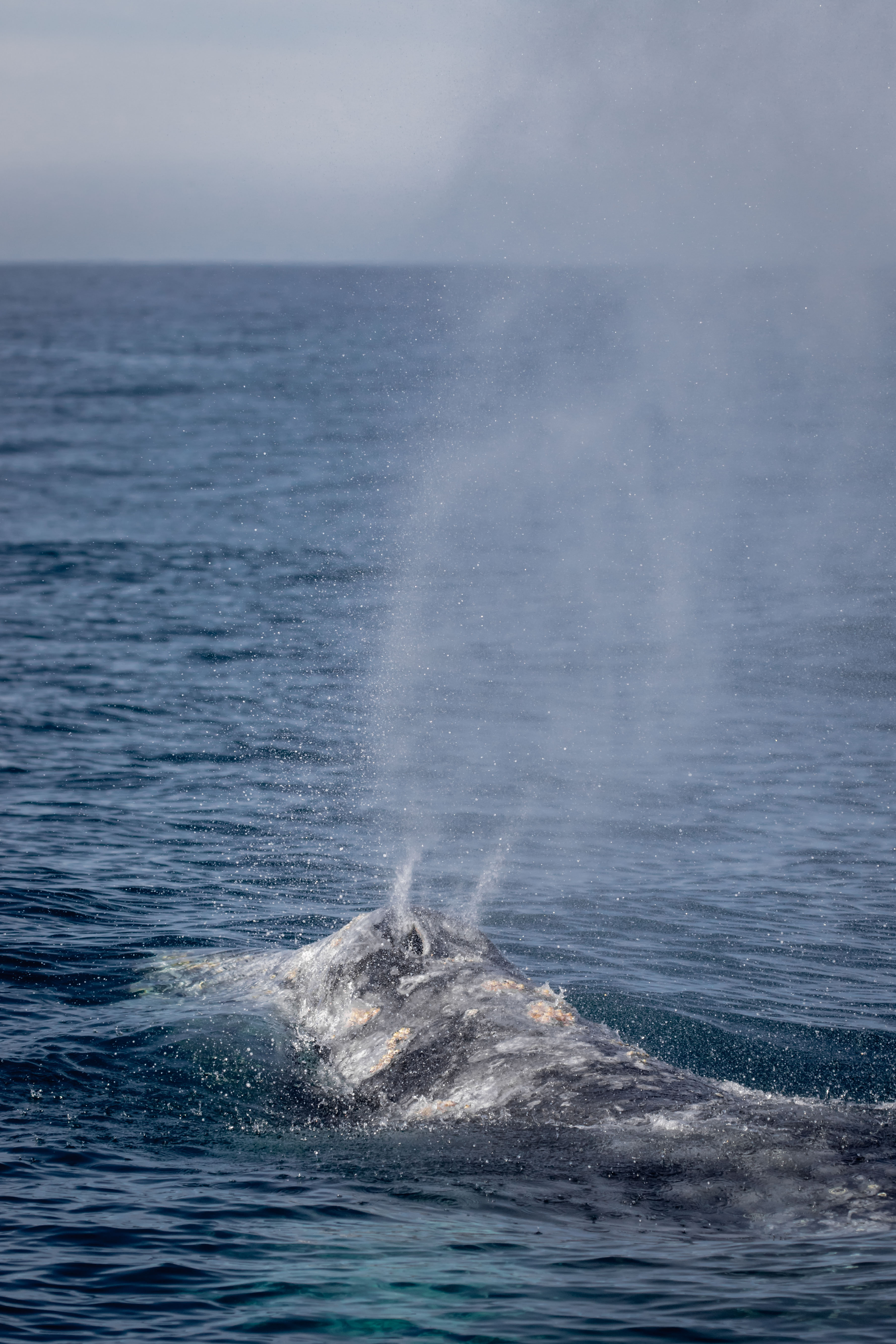 We had the nicest conditions we've had in a while today. A light swell mixed with a light wind made for really nice and comfortable conditions, and it got nicer and nicer throughout the day! I went out on two trips aboard the Pacifica with Captain Danny and deckhand Kevin. Alfredo and Captain JJ took the Chubasco out as a second boat on our morning trip.
We started our day off with a Gray Whale right by Point Pinos. We got a few looks at this individual when we started noticing more and more blows around us, probably about 8 Gray Whales within a mile radius of us. After getting some nice looks, we had a massive surprise as three of them surfaced directly next to us! At one point one was about 10 feet away from us. We stopped the boat, and sat and watched as these Gray Whales slowly moved down south, giving us great looks at their flukes as they went down. It was spectacular, and the best looks I've ever had at this species!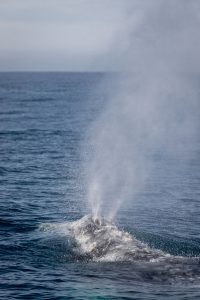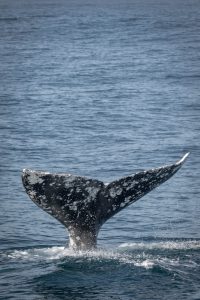 After we got these amazingly close looks, we decided to head offshore to see what else we could find. Our first stop was a group of Risso's Dolphins, including our friend Casper, the albino! We got awesome looks at Casper on about three surfacings with a small group of dolphins.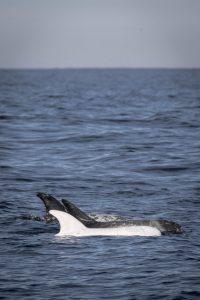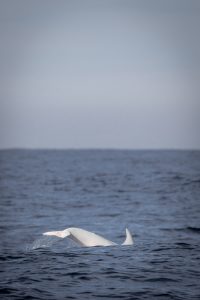 Pushing further offshore, we started seeing splashes and were super happy to come across an enormous group of Northern Right Whale Dolphins! There were around 500 individuals all around us. We saw lots of jumps, lots of young calves, and lots of bow-riding! Quite a few of them came right underneath the bow to swim along with the boat, and then suddenly they were joined by Pacific White-Sided Dolphins! These two dolphin species swam along next to each other and gave us incredible looks, very easy for all of us to see the obvious differences between the two species.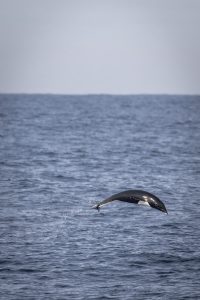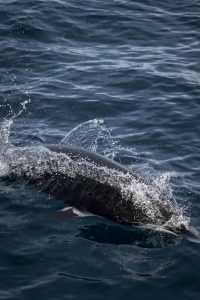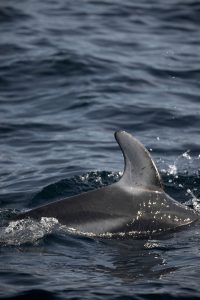 We finished off pushing a tiny bit further offshore and came across a nice pair of Humpback Whales. We only had time for three surfacings of this pair, but they didn't disappoint. They moved nice and slowly, and right at the end they pointed towards us. Danny stopped the boat. They came right up to us, and again we had another whale about 20 feet or so from the boat! Incredible. After they went down on their dives, we pointed back towards shore to prepare for our afternoon trip.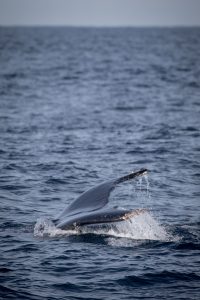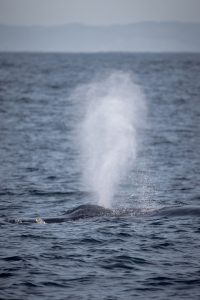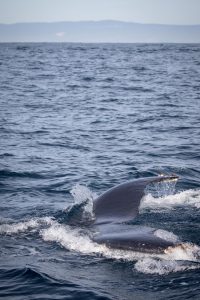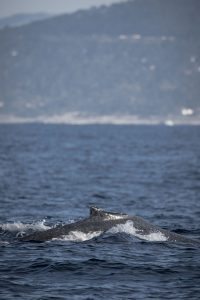 We started off the afternoon with some brief looks at a small group of Risso's Dolphins right outside the harbour, but we didn't stay very long as we wanted to make sure we had the time to get offshore and catch up with the action. When we got out west, it was just as incredible as in the morning. The Northern Right Whale Dolphins and Pacific White-Sided Dolphins had joined up with a nice Humpback Whale! As we cruised alongside the Humpback, we could watch the dolphins play while it was down on its dive. Again we had both species bow-riding and jumping, and we even got to see them bow-riding the Humpback Whale! So cool!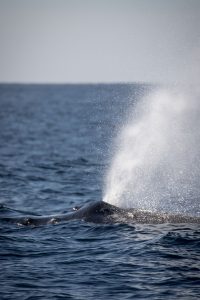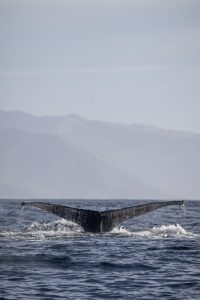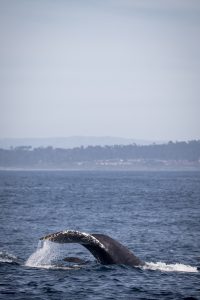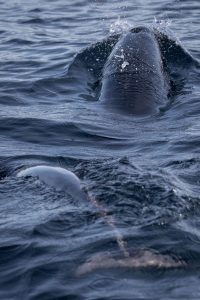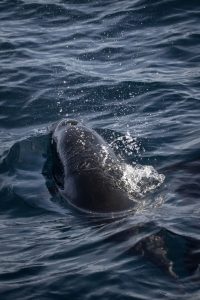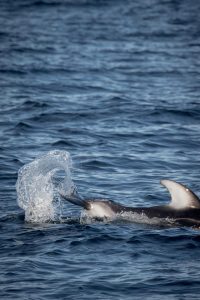 After getting our eyes full we headed back into shallower waters to look for Gray Whales. We eventually found one by Point Pinos, but it was a bit unpredictable and tricky to watch. As we were about to leave, we saw a bunch of blows all together, around 4 or so. We went over to them and found a nice group of 4 Gray Whales slowly moving down south. We stuck with these guys for a little bit and again got incredible views. We had an awesome finale as the four of them fluked up nice and big, just in time for us to turn in and get back the harbour.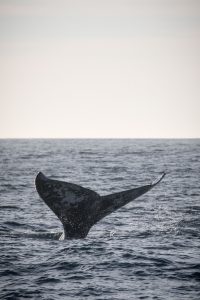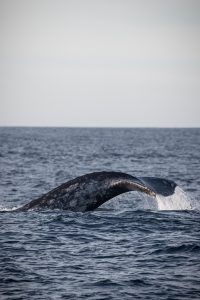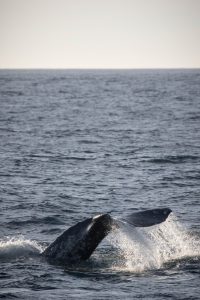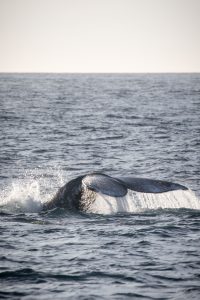 On our way back in, we briefly passed a small group of Risso's Dolphins again. Five cetacean species on either trip! Absolutely incredible day.
Naturalist Pete.