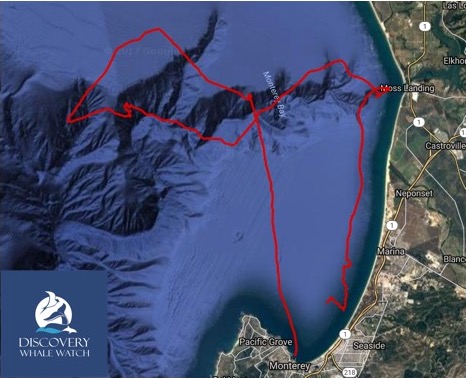 We had our first sunrise trip of the year! It was incredible to be out with the whales as the sun was coming up. The colors in the sky at sunrise were absolutely unbeatable. We had small groups of whales all along the beach from Monterey north to Moss Landing. At the head of the canyon near Moss Landing there was another large scattering of whales feeding. The humpbacks appeared to be feeding in pairs or small groups targeting anchovies. After spending some time with more than 50 Humpbacks in the sunrise "golden hours" ideal for photography, we went to explore deeper waters in search of other species. Our track line for the trip can be found in red on the map image. We collected 6 Humpback fluke ID's and have been able to send them to our collaborators at Happywhale you can view our company's profile and follow along with our sightings here. We will have more information about matches to known whales very soon!
Here are a few fluke photos we collected: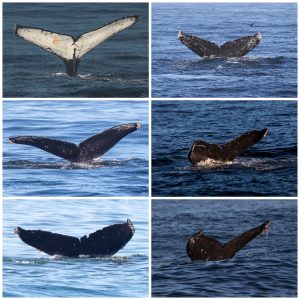 Continuing offshore we worked our way across several bathymetric features in the canyon that tend to be "hot spots" for whales and dolphins. We sighted a few more Humpback Whales and then a nice small group of Pacific White-sided Dolphins that appeared to be resting. Not long after the dolphin encounter we received a report from another boat that there were a few Blue Whales not far from our location. When we arrived to the location we were able to spend some time with one Blue Whale and a few scattered Humpback Whales. It is still very early in the season for Blue Whales. Usually Blue Whales feed in Monterey Bay from mid-July to October when the adult krill is very abundant in the canyon, but they do start making appearances and surveying the area for food starting in spring time.
During the Blue Whale encounter we received yet another wildlife report, this time it was Killer Whales! After spending a little time with the Blue and taking some drone footage, we headed to the Orca sighing. Arriving on scene, there were two sub groups of Killer Whales milling around and doing some tail-slapping. These appeared to be Bigg's or transient Killer Whales and we estimated 8 individuals in the area. The Killer Whales were a nice way to wrap up our trip. The wind was just starting to pick-up on our way in, perfect timing for our day.
You can view photos from this trip in our photo gallery here or on our facebook page here.