We were super excited to get out there today – the swell had nearly completely disappeared, the wind was barely noticeable, and we were ready to go out to find some whales. Captain Rod was at the helm while myself and Alfredo were out on the deck looking for wildlife and hanging out with our passengers. Alfredo and I barely ever get to work together. This was our first time in a month or two, and only our second or third time overall, so we knew it was going to be a fun trip. The wildlife definitely came through as well, and we got ourselves an awesome day out on the water!
"I'm going out to the middle of the bay," Rod said as we started leaving. I'm hanging out on deck when I notice that we are most definitely not heading into the middle of the bay. Rod is taking the Pacifica straight out west from the harbour, past the suburb of Pacific Grove and out past Point Pinos.
I joked around with Rod a bit "Did the middle of the bay change location today"?
Rod told me that he just had a gut feeling to go out South West. And who are we to argue with a gut feeling?
Our first sighting of the day come up as we noticed a bit of splashing off in the distance ahead of us. Was it a pelican? Was it a blow? Was it a sea lion? We pointed the boat directly at the splashing and before long we came up to a huge pod of Risso's Dolphin!
We've been having relatively consistent sightings of this species recently, and today was similar to how we've been seeing them – enormous pods consisting of at least a few hundred individuals, completely surrounding the boat! Again we saw some headbanging, some fully breaching, and some passing by super close to the boat. Amazing views. I showed some passengers my favourite trick – tracking the dolphin underwater by the nice visible white glow (much more evident when wearing polarized glasses), and shooting like crazy as they surface, to get a shot of them breaking the surface tension and exhaling. We also all got really nice looks at the scars coating their bodies, and I caught a few fleeting glimpses of a couple of juveniles swimming by, lacking all of these scars.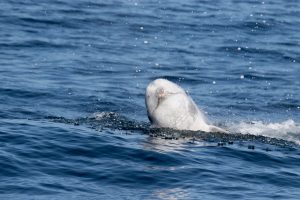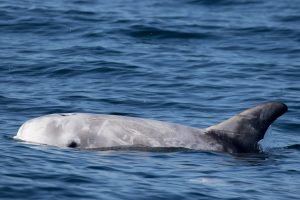 We were all enjoying the moment. It's hard not to be happy when you're surrounded by dolphins. We notice a bit of splashing ahead of us. It looks a little bit different. Smaller, faster. Rod asks me to take a picture and zoom it in, we think it looks like a pod of Pacific White-Sided Dolphins. But no – it's Common Dolphins! Short-Beaked Common Dolphins!
This was an amazing sight. Rod and Alfredo hadn't seen this species in about a year or so, and there had been some in town last week but all three of us had missed them. This was my first time seeing them since arriving in Monterey. I'd seen one individual in New Zealand before, but this completely blew that sighting out of the water. We got closer to them and then the entire group of 300 or so turned and pointed right at us. They came and swam up close, right next to us. They swam right underneath the bow. They swam in our wake. They jumped out of the water – in fact, they jumped so much that I couldn't choose where to put my camera!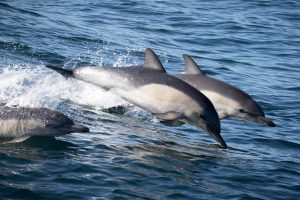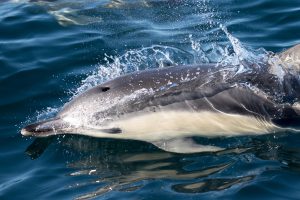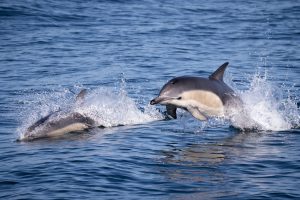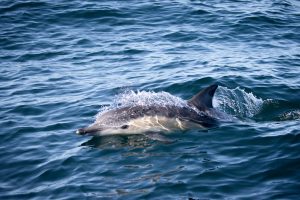 This was such an astonishing view of this species, I'm struggling to put into words just how much I enjoyed it. Amazing looks at an amazing species – and then it got even better.
"Are those sea lions or mudskippers?" Rod yelled out to me from the wheelhouse, drawing my attention to some splashes about 100 feet off to our one o'clock. By 'mudskippers', he was referring to a species known as Northern Right Whale Dolphins. This is a species that is pretty unique, as it lacks a dorsal fin. Dorsal fins often play a role in providing stability for dolphin species, but the Northern Right Whale Dolphin instead finds stability through its body shape. When you see one at a distance, porpoising out of the water, it is super hard to distinguish from a porpoising sea lion. As I'm looking out trying to get a good look I hear exclamations from the people next to me. I look down and see a pair of Northern Right Whale Dolphins swimming right next to us! Close enough to sneeze on. They continue to bow-ride, and we all get amazing looks.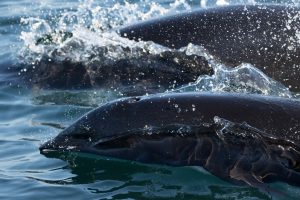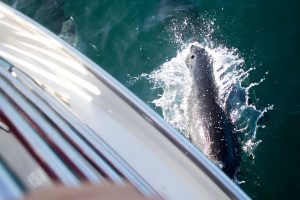 We ended up with about 500 Risso's Dolphins, 300 Short-Beaked Common Dolphins, and 100 Northern Right Whale Dolphins. We had such a great time, but eventually, we looked at the clock and realised we had to move on and catch up with some baleen whales before we had to head back in to shore. Captain Rod points the boat South, and we head on down for a bit of a ride. We had some word from an observer on land, and we wanted to try to catch up with his sighting. It sounded GOOD.
We're starting to get into the area when we notice an enormous blow in front of us. And then another one a mile off. And another one a mile off! And then another one right by the first one! And then another about a half-mile in the other direction! These were all Blue Whales. Five Blue Whales in the area! Amazing!
We take a second to decide which ones to focus on when we realise that two of them are diving and surfacing together, with dives lasting only about 5-8 minutes. We stick with them and get ourselves amazing views. One of this pair is fluking every time it goes down, the other one just giving us a nice look and its long back. We get awesome looks at them with Point Lobos in the background, then with the Highlands in the background. Then they push offshore a little bit – amazing, amazing looks. Very happy passengers, very happy Pete.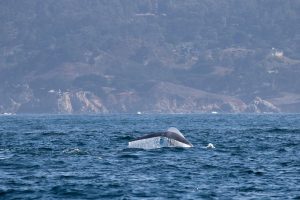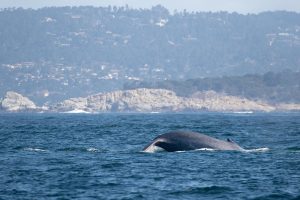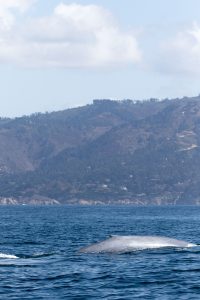 This was one of the days where I didn't want to go back in. I just wanted to stay out here with the dolphins and Blue Whales all day long – I'm pretty sure Alfredo and Rod agreed with me. But unfortunately, we had a schedule to keep. We said goodbye to our Blue Whales and began the long ride back to Monterey. On the way back in we made a brief stop at Cypress Point to say hello to a Steller Sea Lion that we see here every now and then.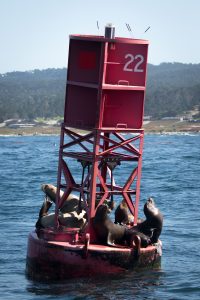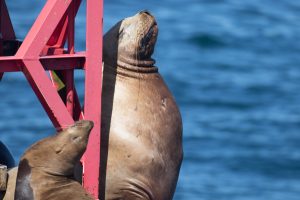 I was super happy to see all these amazing species but was also extra glad to finally get the chance to photograph Common Dolphins. I found it a bit tricky trying to keep with their movements, but I think I still got a few good ones in. Looking forward to the next time!
Naturalist Pete.