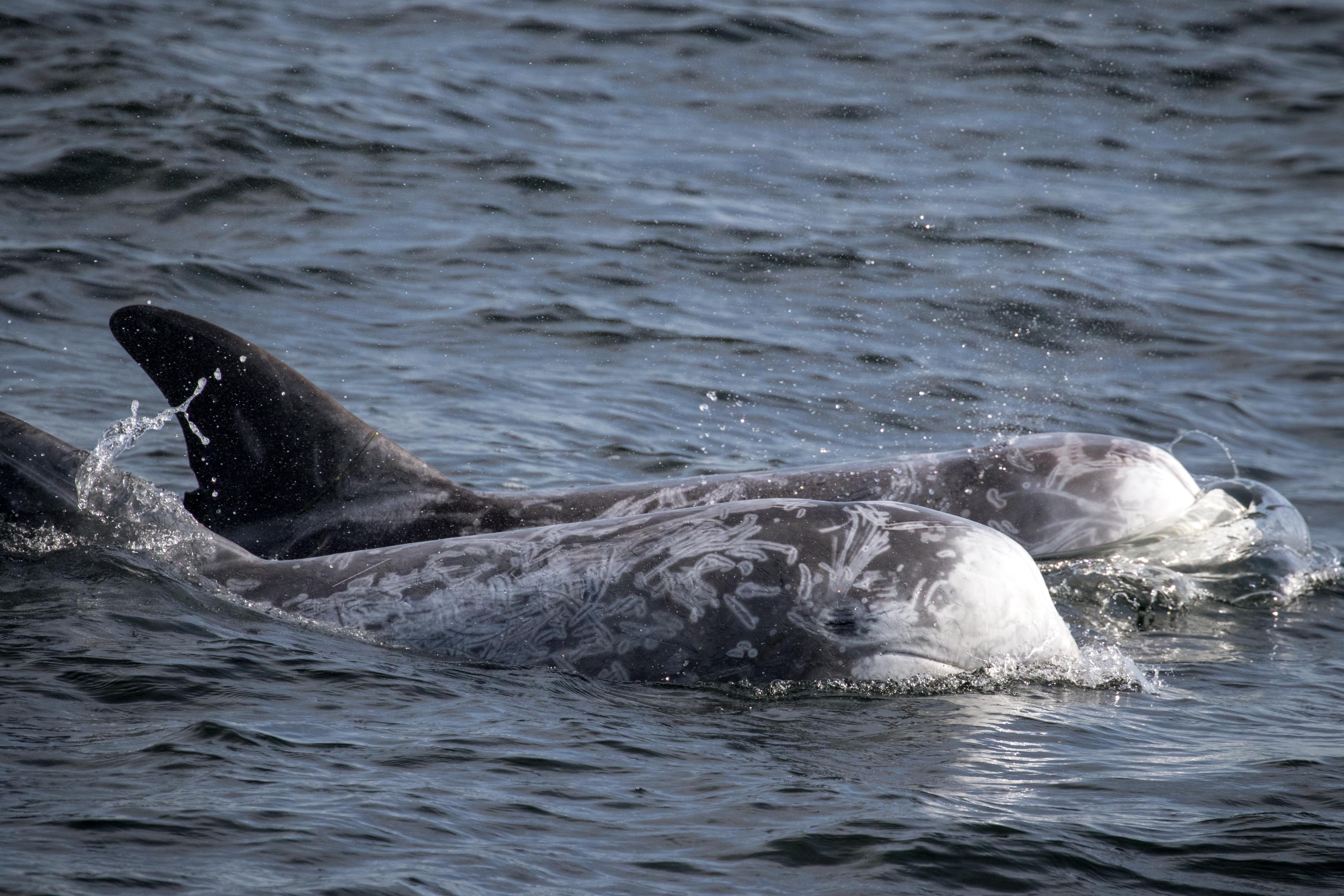 Upon leaving the harbor we could see clear skies and flat calm seas. I know I mentioned this in my last blog, but its really that big a deal here on the Bay. We pushed to the northwest on the Pacifica (our vessel) passing the shorelines of Monterey, Pacific Grove, and finally Point Pinos, making our way into the open Pacific.
We continued west, then northwest, and finally directly north. It took us longer than usual to find our first mammal sightings, about 90 minutes, but at last, we found some. Captain Rod stopped the boat just southwest of Watsonville. To the north, we could see 3 humpback whales, each alone and doing its own thing. We observed each of them, finally choosing to approach the closest whale, as it seemed the most consistent and predictable.
Once we got close enough to really get a good idea of what this whale was doing, we noticed it was quite small, most likely just 2-3 years old. The distance between the blowhole and the dorsal fin is the easiest way to tell a whale's general size, in my opinion. This whale was feeding very consistently. It would breath 3-4 times, go on a dive for just about 2-3 minutes, resurface and continue. The whale was so easy to watch, and the weather was so perfect, we stayed with this young humpback for a whole hour. We suspected this whale was feeding on anchovies, judging by the shapes of the schools we were picking up on the depth sounder. After a good show, we decided it was time to start the 14-mile journey back to Monterey. We thanked the whale for the show and were on our way.
Halfway home, Captain Danny on the New Horizon radioed Captain Rod letting him know he had a pod of 20 Risso's dolphin with him, in front of the Marina area. We altered course slightly and went to show our passengers some unique looking dolphin. We enjoyed the Risso's for 10 minutes, then moved on south for the final 7 miles.
Written by Naturalist Alfredo Chiappini, Photos by Pete Naik.