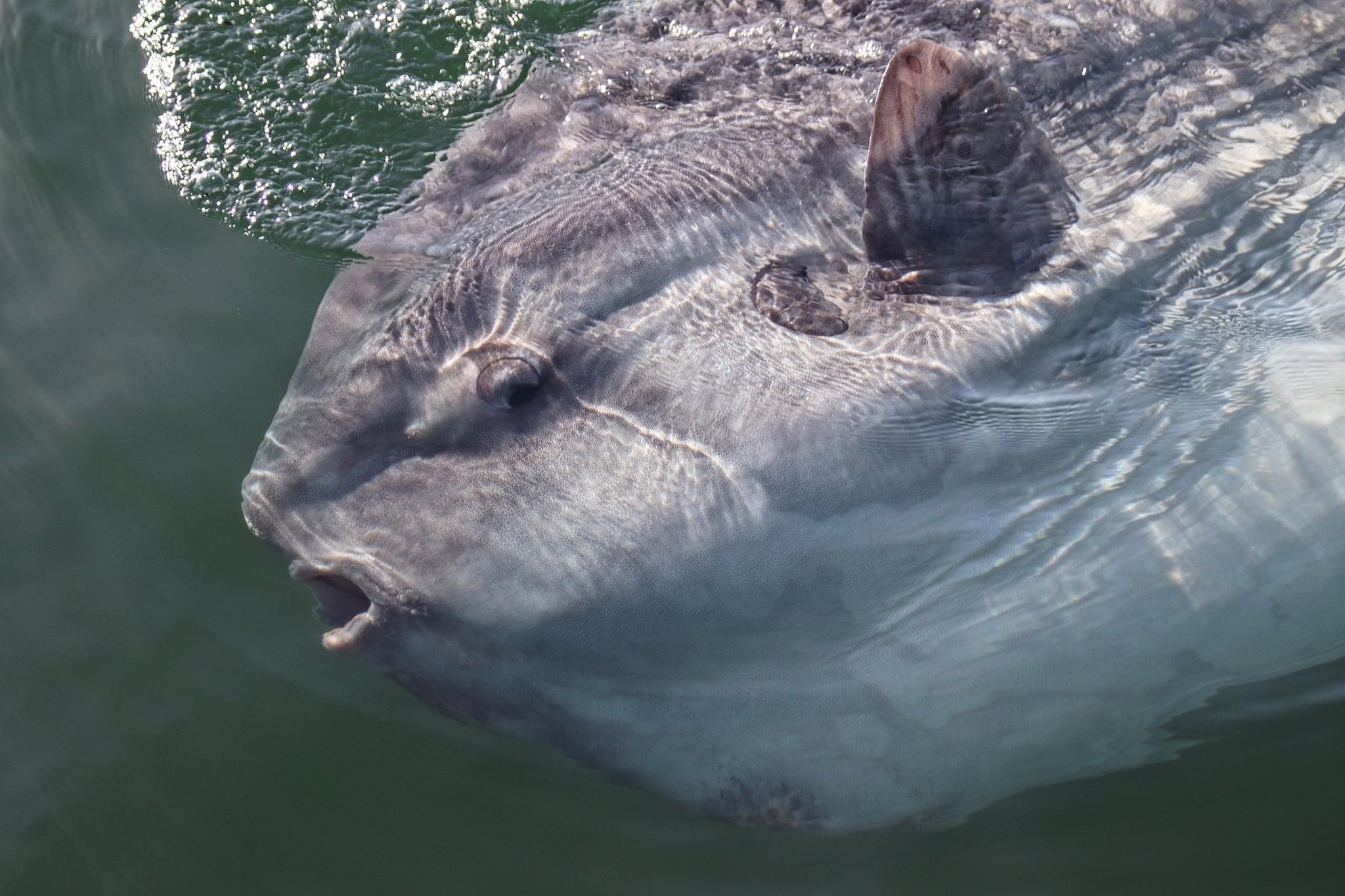 We kicked off the morning trip by heading north toward the deep-sea canyon. We had an all-star crew of Captain Rod, and Fredo as crew, aboard the Pacifica. There was a decent swell of about 8 feet, and brilliant sunshine. Half way to the canyon we came across a huge ocean sunfish! (mola mola). We watched it for a bit as it was showing really well, sunning itself on the surface. Moving north we got to the edge of the submarine canyon but still no marine mammals. Captain Rod took us west, then northeast where we spotted our first whales. We had a humpback cow calf pair (a mother and baby), who were on the move. We tracked along side them, spotting more humpbacks scattered throughout the area. This cow and calf eventually lead us to an area with hundreds of Risso's dolphins! We were enjoying some very boat friendly and active Risso's before something stole our attention. Their smaller and quicker relatives, the Pacific White Sided Dolphin made an appearance! It was a small pod, I'd say 10 strong, came charging in and started bow riding! Just as quickly as they appeared they were gone. We headed home, seeing more humpbacks in the distance along the way.
The afternoon trip was a bit more of a challenge; those 8 foot swells had turned into chop and whitecaps. We fought our way north to where we'd seen the morning activity. We spotted another ocean sunfish, which always seem to captivate people due to their strangeness. After giving it some time, we continued looking for whales. We found a couple pairs of humpback whales, and watched them for a good while. Just before we'd run out of time, one of them breached! (jumped out of the water). Most people missed it, but I told them to keep their eyes on the whale, as they often breach more than once. This one didn't disappoint. It gave us 3 more breaches as if to say farewell. We turned south for a bumpy and somewhat wet ride home, all part of the adventure.
Writing and Photos by Naturalist Fredo.