Captain Rod and I took out a light load of 13 passengers on the Pacifica this morning. We met really nice ocean conditions, a little bit of northerly wind but no swell. Today we decided to set sail up north towards Moss Landing and see what we could find.
We came across a pair of Humpback Whales sitting around the submarine canyon and sat with them for a while to get some really nice looks. This pair was great. They moved around a fair bit but were still predictable. We saw big old tail flukes and even some super close passes next to the boat!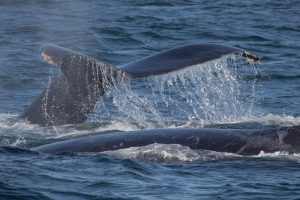 The coolest thing about these whales was that we could actually see quite a few scratches and scars around the body. Right now in the bay, we have heard reports of some of the male humpback whales engaging in competitive behaviour. This is something that they do in the breeding grounds to compete for mates, and it can sometimes start up here. This dominance behaviour could consist of them chasing each other, harassing each other, and even smacking each other with parts of their body. Their barnacles can cut up the skin of their competitors and cause these scratches and scars. We didn't actually see this behaviour from this pair, but we have had enough reports of it around the bay that I think it's pretty likely that's where these scratches came from.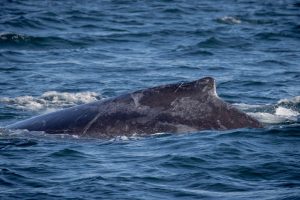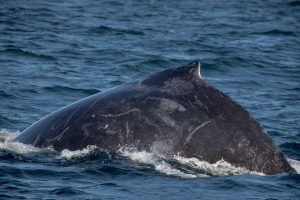 We kept pushing a little bit further north to come across some Risso's Dolphins, and it actually looked like they were participating in the same behaviour! Risso's Dolphins are generally covered in scars with a number of them coming from competitive behaviours. This species usually only has teeth on its lower jaw, and it can use these to scrape up competitors. This can be competition for resources or for mates. We saw these dolphins zooming around, smacking into each other, and jumping clear out of the water. Awesome stuff!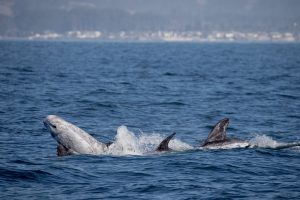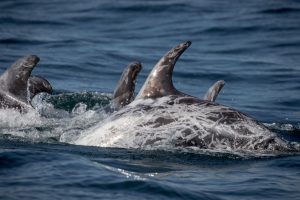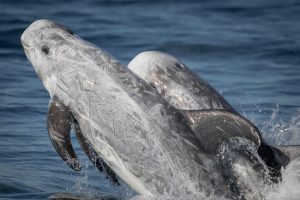 No afternoon trip today, but we were pretty happy with our morning out there. Let's see what we can find tomorrow!
Naturalist Pete Naik