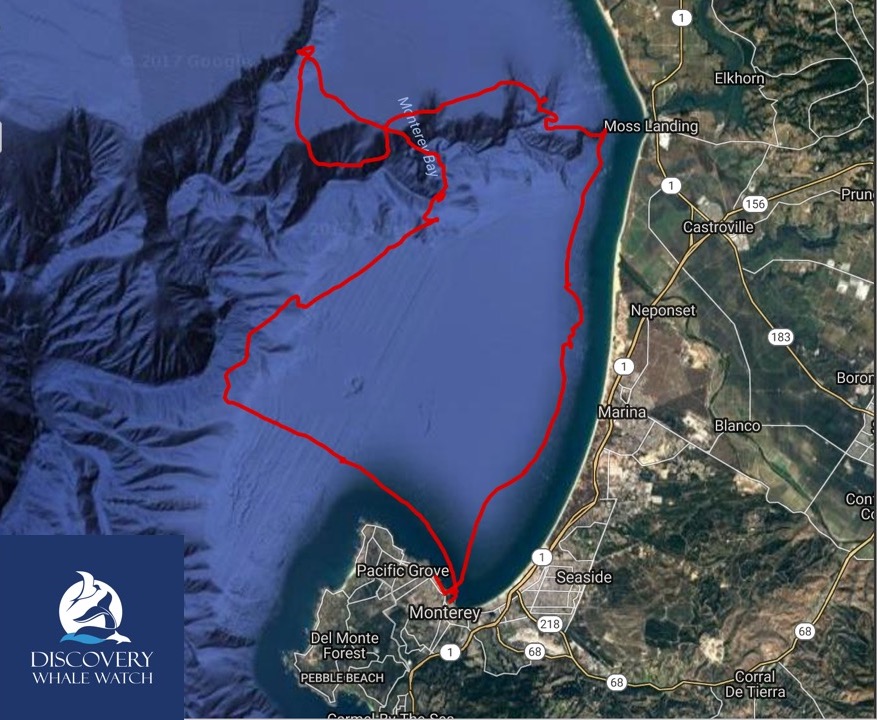 Wednesday's sunrise trip was another one for the books. It was overcast during sunrise which was an added challenge for our photographers – but we were treated to some surface behaviors first thing in the morning by a young Humpback. While out on the bay today we sighted 30 Humpback Whales, 2 Blue Whales, 20 Risso's Dolphins & 10 Harbor Porpoise.  You can view photos from today's trip in our photo gallery here.
One of the Blue Whales was surface feeding throughout the encounter and you can see it upside down in the drone video here. Blue Whales feed by doing a barrel roll maneuver to maximize how much krill they engulf per lunge. You can read more about this feeding strategy being studied by local scientists at Hopkins Marine Station here. You may notice that this whale is missing part of it's left fluke. It's hard to know where this damage came from, but it does make the whale very distinct. This same whale has been documented this week by other boats. It is still early in the season for Blue Whales in Monterey Bay, so there is more excitement in store throughout the summer!
We were able to collect some fluke ID's for Happywhale and will be updating our trip report over the coming days. For those interested in bird life, we had plenty of seabirds: Black-footed Albatross, Sooty & Pink-footed Shearwaters, Red & Red-necked Phalaropes, Sabines Gulls and Fork-tailed Storm Petrels were our highlights for the day.