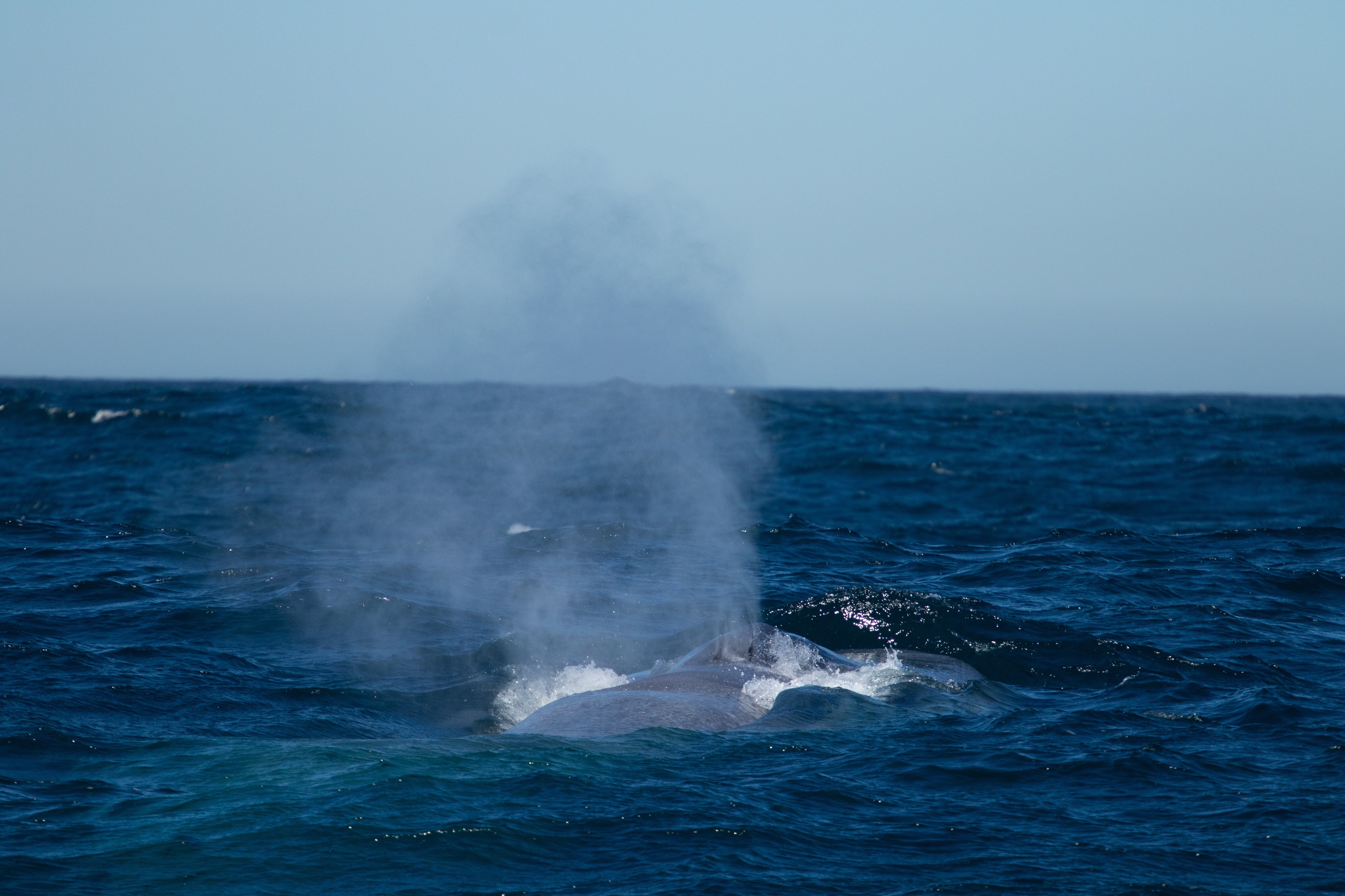 We left Monterey and made our way out into the bay. It was very clear, we could see straight across to the Santa Cruz Mountains. Warm sun, and a moderate sea breeze had us feeling good about the adventure ahead.
After 45 minutes we rounded Point Pinos and began moving south. We soon spotted a large pod of Risso's dolphin. It was a very spread out pod of several hundred. We watched their tall dorsal fins cut through the water on all sides of the boat. We were surrounded! Most people who join us have never even heard of a Risso's before!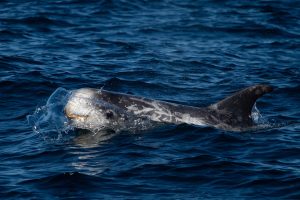 As we were watching the Risso's we got word from our sister vessel the Pacifica that not too far from us was a massive pod of Pacific White Sided Dolphins. We broke away from the Risso's and moved just a mile to the south. We hit the jackpot on this one! There were at least 2000 whitesides in a very spread out pod. And the dolphin weren't alone; there were California Brown Pelicans dive-bombing the water, Western Gulls circling and swooping, Brandt's cormorants, and Common murre. This was a great sign there was a lot of food in the area, sardines or anchovies most likely. The white sides surfed our wakes, and rode our bow for at least 45 minutes as we made our way south along the 17-mile drive coastline.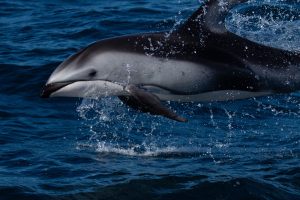 We saw some blows on the horizon, which was convenient because we could tell our guests were itching to see some larger animals. As fun as the whitesides were; we left them behind and pushed further south, crossing Carmel bay, and finally stopping off the coast of the Carmel Highlands. As whale experts, we could tell that these weren't humpback whales; due to the shape and height of their spouts we could tell they were something bigger, either fin whales or blue whales. As we waited for them to resurface we had everyone scanning all sides of the boat. We heard a loud exhale and saw 2 blue whales surface within a quarter mile of us! We cruised over and gave everyone a nice view of the largest animals on the planet.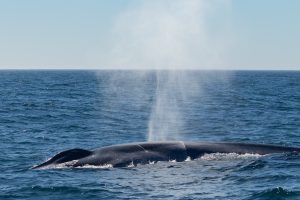 Blue Whale                                                                                   Fin Whale with the Pacifica
As we were watching this pair of blues I saw another spout behind us. I took a good look with the binoculars and saw the unmistakable sign of a fin whale (a long black body, a tall spout, and a large hooked dorsal fin). This was cool; fin whales are the second biggest animals in the world! I told captain Danny and Katlyn our naturalist, and we went over to take a better look. We tracked along side this fin whale for a good while and it lead us back toward the pair of blue whales from before (very thoughtful I know). Both the blue whales and the fin whale seemed to be moving in the same direction. For me the highlight of the trip came right here, we had the blue whales on one side of the boat, and the fin whale on the other, the gold and silver medalists for largest animals to have ever lived!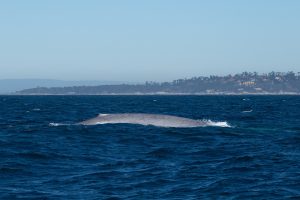 Before we finished our encounter with the whales, the herd of dolphins had caught up to us again as they were cruising south down the coast! Along with Pacific whitesided dolphins we had a handful of Northern right whale dolphins buzz by the boats a few times!
As we made our way back up the coast; we enjoyed some scenery, seeing lots of spouts on the southern horizon. By this time (12:30pm) some of the classic Monterey Bay afternoon wind had picked up which made for a little more of an adventurous ride home.
Eric reported similar sightings from our 1:30pm tour on the Pacifica as they traveled back down to the coast to almost the exact same area. Still a blue whale and dolphin bonanza! Katlyn also reported three blue whales and plenty of dolphins on the 3pm photo charter we took out on the New Horizon later in the afternoon!
What an incredible day in Monterey Bay!
Blog write up by Naturalist / Deckhand Alfredo Chiappini. Photos by Katlyn Taylor.